Hello. I know many people in game don't know about that something like "dungeon points" really exists. So I've decided to make a simple guide about how to count these points to spawn an ancient for all players in the party
What are dungeon points?
Every time when you enter to the small dungeon and kill boss you earn some kind of points. Every solo run is worth one point. To get more points per run we need to get a party. In a full 5 people party we earn 5 points per run.
The more people we have in party the more points we earn, let's see:
solo - 1 point per run
2 players - 2 points per run
3 players - 3 points per run
4 players - 4 points per run
5 players - 5 points per run (maximum)
Hard mode in dungeon gives you 1 point for HM and 1 point for EM.
Point are bound for zone not for dungeon which means you can collect you points for example in Torran Prison, but if you want you can spawn your dragon in Lodar Carvens using the same points.
So how to spawn an ancient using these points?
Ancient dragons within dungeon have 15% chance on easy mode and a 30% on hard mode to spawn after you've collected 300 dungeon points.
The easiest and fastest way to spawn an ancient is to find full 5 people party. With 5 people you need 60 runs on each mode to spawn one dragon. However this does mean only one person in party will be able to capture the dragon. So to get dragon for every player in party we have to do some thing. You first earn 285-290 points (58-59 runs) in party mode (285 is much safer because for example whilst farming Ember Spark, he spawned for us when we did last run in a party while having 290 points. This resulted in only one person getting the dragon and we had to farm again next day). After everyone in the party reached 285 points we split up and finished the rest alone. I recommend doing all runs on easy mode, because I noticed that on hard mode points often get reset before an ancient dragon is spawned. With this method I almost got all dungeon ancients (Ember Spark, Twilight Ocean, Dancing Rook, Fyonorr and much, much more).
How will you know that an ancient dragon has spawned?
If ancient dragon got spawned you should see an yellow message in your chat saying "A faint growl was heard in the distance". Or if you are close enough you will see a red message, which means you are really close to the ancient spawnpoint. But at the moment there is a bug that this message doesn't always get shown, so it's better to check ancient spawn points after you've collected 300 points.
The yellow message seen on chat:
The red message would look like this: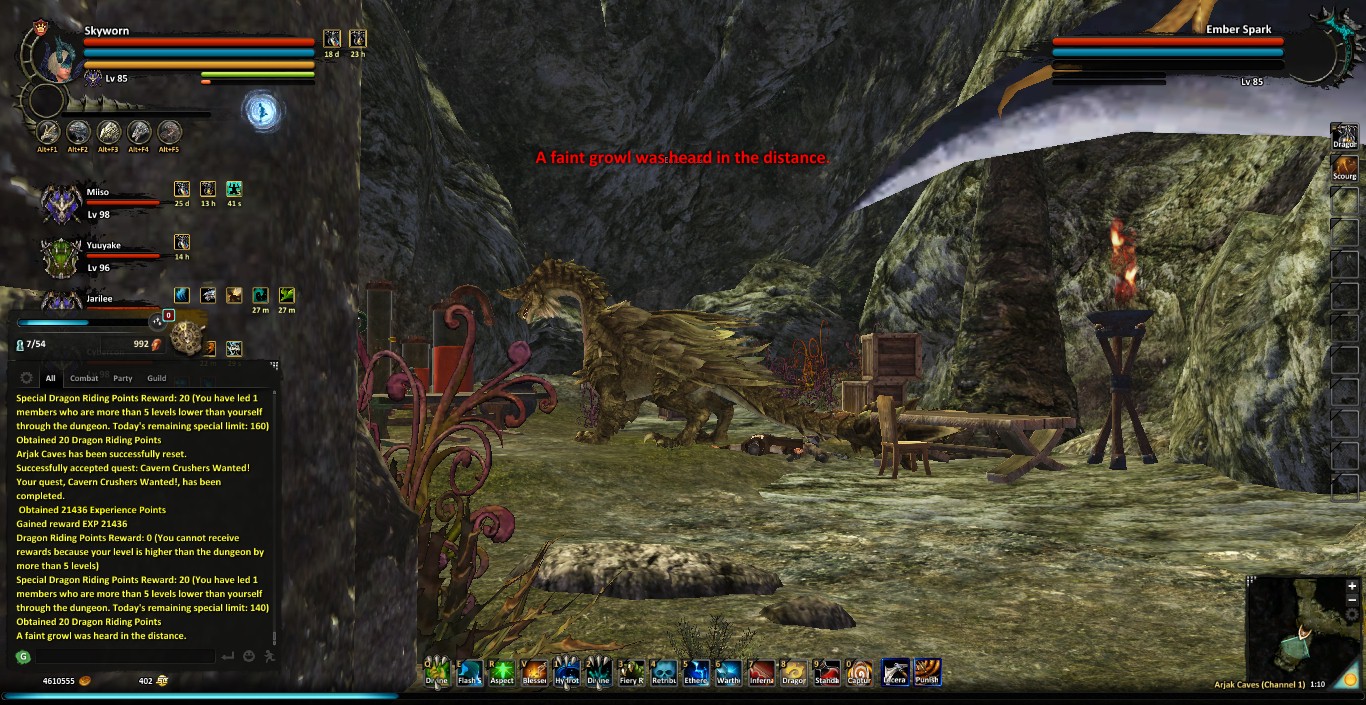 (picture taken from SOE Dragon's Prophet Wiki)
After you seen these messages just simply run foward to spawnpoint of your ancient and tha daa!
Can these points be reset?
Points only should reset after you spawned an ancient, but please notice that they usually reset after a patch as well. Hard mode can also reset your points. I don't really know how and why, so it's better to farm on easy to get your dragon.
Strategy to farm ancients faster.
First of all you should look for a full 5 player party. Then, enter to the shortest dungeon in the zone (This run shouldn't take you more than 2 minutes). After that, one or two players run foward and wait next at the boss room for it to be unlocked. The other 3-4 players clear the dungeon until the players killing the boss will be able to get there. By using this way farming 290 points will take from 1,5 to 3 hours (depends on the level of the players, length of dungeon and level of dungeon).
Balge in new spawn system.
Confirmed by GM Kyarak, that Balge works with this system only in Aryna's Lair.
Edited by Hyve, 30 December 2014 - 12:51.